User:Kflory
Kflory
Real Name
Kevin Flory
E-mail Address
[http://www.i3detroit.org/crm/ In CRM]URIs of the form "In CRM" are not allowed., posted in Craft Room

URIs of the form "posted in Craft Room" are not allowed.

---

Craft Room, Vinyl Shop Coordinator


---

Authorized to use:

Fabric Cutting Table and Giant Mat 4x8'
Trogdor (Kiln)
Bumblebee
Wolverine
Powermatic 14 inch Bandsaw
Powermatic Belt & Disc Sander 1.5 hp, 230V
Line-O-Scribe Showcard Writer


Certified Trainer on:
None
Preferred Contact
Call me, text me, or come see me in person. (I have 'office hours' Friday nights, and come to the space evenings about every 1-2 days.)
Craft Room Co-Coordinator
I served as the Craft Room sole coordinator from Winter 2012, and co-coordinator from 2017 onward (the lovely Jan Henry is the other.) I specialize in painting, drawing, and decorative arts; Jan is our sewing expert.
Trains On
The user sidebar shows only part of the picture.
I can also train on the small letterpress, along with Ashley Prescott-Lesser.
Training is not required for the vinyl cutter, but I'll gladly show you how to use it.
Training is not required for the small equipment in the Craft Room, but again, I'll gladly show you how to use it.
Please note that **I'm no longer the resident trainer** on the Husqvarna embroidery machine. Our offsite expert is the fabulous Liz C (contact details in the CRM), and our onsite trainers are Greg Good and Jen Nagle.

Teaching and training is by appointment. I also schedule classes irregularly.
Teaches
I teach:
Watercolor Basics
Advanced Watercolor Technique (washes and gradation, underdrawing in ink, textural methods)
Oil Painting Basics
Advanced Oils (stretching canvases, glazing technique, blending technique, palette management)
Mat Cutting
Basic Gilding
Basic Calligraphy
Quill Pens
Teaching and training is by "just ask".
Pics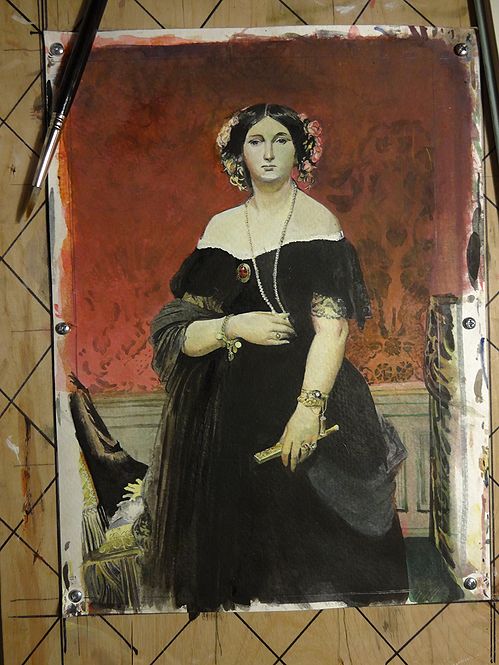 The piece is a student copy of a full-size oil painting by J. A. D. Ingres, a 19th-century French painter. However, it's been reduced to around 19% of the original, posing a bit of a miniaturization challenge. (The original is 1 x 1.467 m (3.2 x 4.8 ft); this copy is 19 x 28 cm (7.5 x 11 in)). I put in quite a few long nights working with a quill pen and fine brush!)
Badges
Event Host
I have earned the Event Host MeritBadge
If teaching Bob Ross counts as hosting an event, I'm covered...although actually, the honors for this badge really belong to Matt O.

NoseBleed
I have earned the NoseBleed MeritBadge