Red Bull Creation
2011
March: Enigma boards sent to various hackerspaces. Ours arrived 4/1: https://groups.google.com/d/msg/i3detroit/YTJa99dUr0Q/HWH-powSefYJ Full disassembly on Red_Bull_Creation_2011, and tweet confirming FTF makers list: https://twitter.com/RedBullCreation/status/54081680453017600 (tweets are protected, screenshot at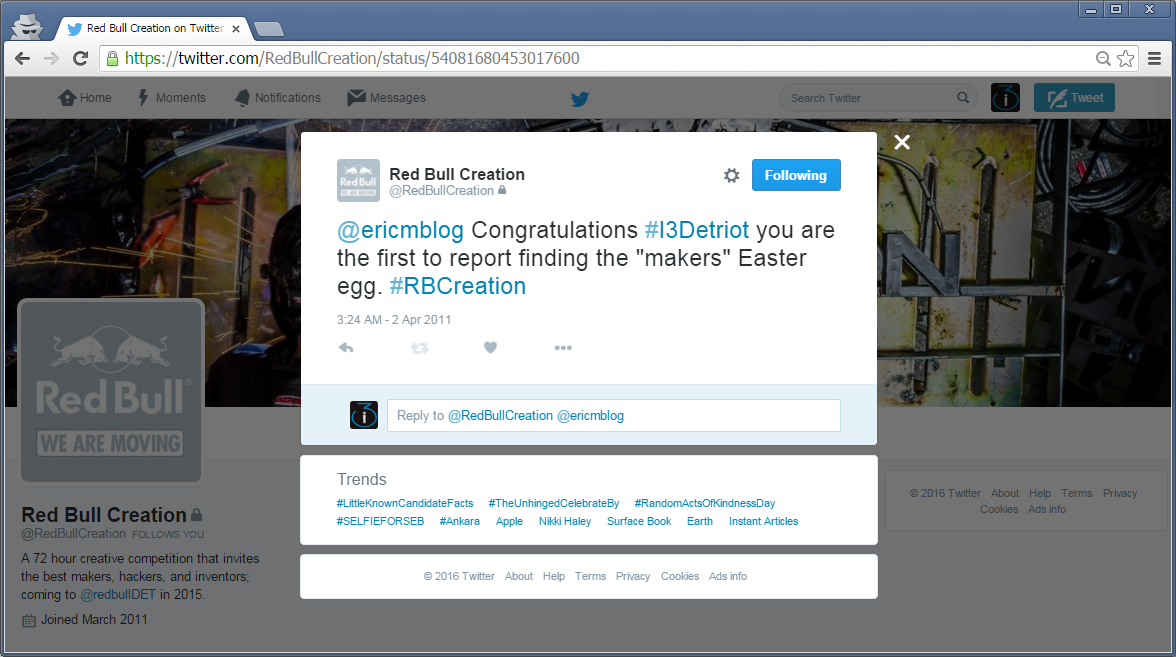 ) and https://twitter.com/RedBullCreation/status/54101432588181504 and https://www.i3detroit.org/taking-the-red-bull-by-the-horns-achievement-unlocked/
Qualifying entry: ChronoTune [1]
April 27: ChronoTune [[2]] uploaded to YouTube.
July: Finals in NYC, created the SquiggleTrike. Finals team: Roger, Ted, Eric, Nate B.
2012
qualifier?
"Finals" held by video link, we built the Tri-3 game board.
2013
May: Qualifying entry: Rainbowtron
Finals in NYC: Final creation, Whirly-tubulator Finals team: Sean, Rocco, Eric, Matt O. We won team-choice (and a Full Spectrum 40W hobby laser)
2014
Ideas page Red_Bull_Creation_2014
Qualifying entry Phytobots
Finals held in Detroit. Finals team: Marie, Ted, Sean, Ken.
Finals entry RoboCrop, won people's choice and team choice! (won us an FSL3D Pegasus printer)
2015
Was there a qualifier?
Contest held in Detroit.
Team: Mike F, Nate W. (on suspension at the time), Natron Wallace, Tom K.
Entry: LED-lit merry-go-round.