ChronoTune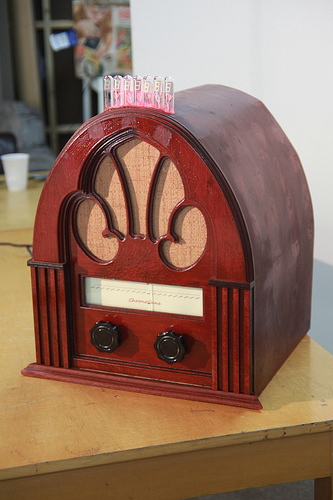 Description
The ChronoTune is a concept design for a time-travelling radio. Instead of tuning to the frequency, one tunes to a year and hears music, speeches, and other audio from that year. Version 1 tunes from about 1850 to 2050. If a version 2 is made, it will tune from the Big Bang to the Big Crunch.
Documentation
The exterior design of the ChronoTune was based upon the Philco 70-series cathedral radio from the 1930s. Eric laser cut lamination layers using the design patent drawings similar to patent #D83957.
Software
The code is here: https://github.com/emerrill/RBC-2011
Media
i3 Detroit ChronoTune blog page
YouTube video of infomercial and behind the scenes
Lead project in Popular Mechanics
Naming Convention
Sound files must be named like so:
1917e00.mp3
The extension must be .mp3. Note the lower case M and P. The year must be 4 digits with optional - sign appended for years BCE.
Resources
TODO
Software
Handle multiple files in a given year (random?).
Remember play-position within a year so you can tune away and back without starting over?
Solve the startup bug, is this baud-related?
Scale the tuning range so the pointer follows the printed scale properly.
Figure out why turning the tuning knob too fast sometimes crashes it.
Make the date range exponential and print a new scale.
Electrical
Beef up the amplifier, it's got a nice 6x9 speaker and could make better use of it.
Add a Bluetooth A2DP receiver module instead of the FM tuner, for when it's tuned to the present-year?
Chassis
Figure out a way to put the LED display tubes back in? They looked sweet but they didn't quite fit the chassis.
Perhaps "behind" the tuning scale...?
Media
Make a repository for sound files.
Collect a bunch more audio.