Nortel GPSTM
Nortel GPSTM
Name
Nortel GPSTM
Zone
Infrastructure




Owner
Nate Bezanson
Make Model
Nortel GPSTM
Part Number
NTBW50AA-11
Date Acquired
Storage Location
Server Rack
Authorization Required
No
Status
Running
Value
$150
IP Address
10.13.0.95
MAC Address
00:01:2e:49:5d:ba
Hostname
harrison.i3detroit.local
Documentation
Manuals
Other References
Intro
The Nortel GPSTM is a GPS disciplined, temperature controlled oscillator and time source. The current purpose is for it to provide a high accuracy, high precision time source for the space and provide a 10Mhz reference clock for the E-Room.
Rules
Instructions
Maintenance Info
FAQ
ToDo
Use distribution amplifier to route 10Mhz/PPS to E-Room
Front panel VFD wiring/software
Integrate with ntpsec
Mount antenna
48-hour site survey
Add PPS output from marked via.
Rackmount case
PPS Discovery
Amelia Meyer and Benjamin Fedorka found inside the unit a PPS output pin, which is exciting because the native output on the unit of PP2S is unsuitable for ntpd.
After some tracing, a more-suitable location near several ground points was located at TP13.
Discussion here: https://www.febo.com/pipermail/time-nuts/2015-May/092151.html
And here's the prior work Ignacio EB4APL refers to, on a different version of the unit (NTGS50AA): https://www.febo.com/pipermail/time-nuts/2014-November/088332.html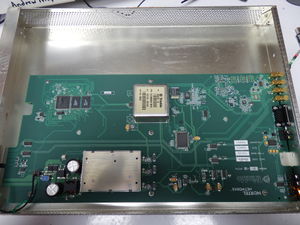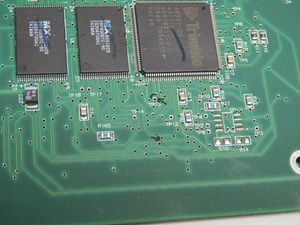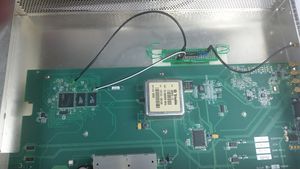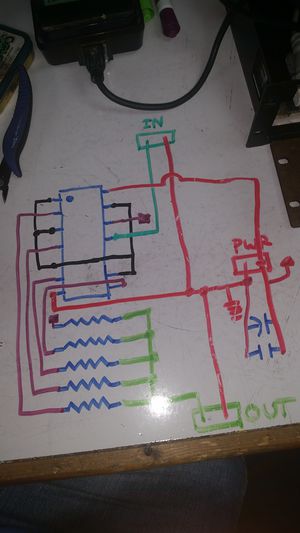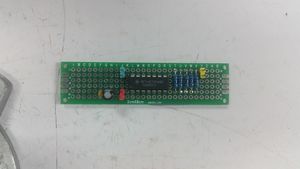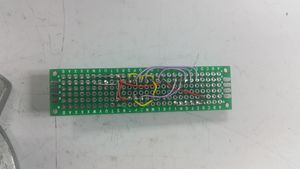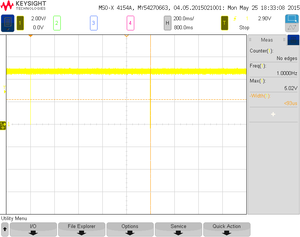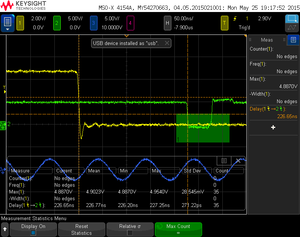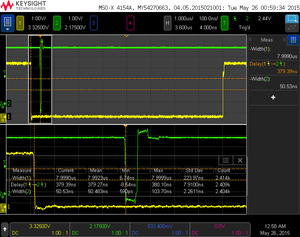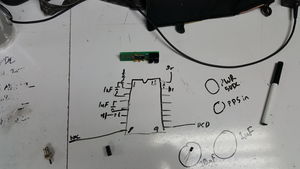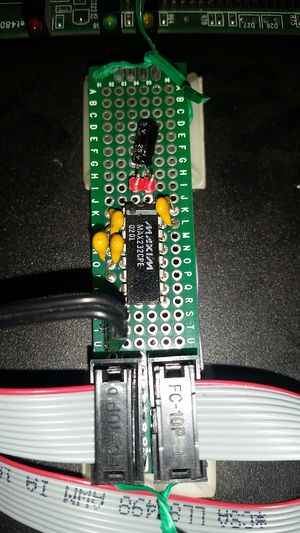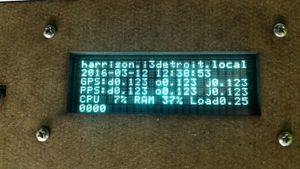 Antenna location
23:10, 12 March 2016 (12-hours, ish): delta of 239.8mm in latlong, 502.9mm alt
Latitude

42.4538034°N

Longitude

83.1138062°W

Altitude

160.73505694 m
13:40, 27 June 2015 (48-hour site survey)
Latitude

42.4538028°N

Longitude

83.1138090°W

Altitude

161.23804233 m
NTP stratum-1 server
Hostname

harrison.i3detroit.local

IP address

10.13.0.95

Services
LCD Front Panel
Noritake CU24063-Y100 Serial VFD cable
Attach FTDI adapter to MAX232 board to VFD CN2 (1x6 0.1" header)
| PC Pin | PC Function | VFD Pin | VFD Function |
| --- | --- | --- | --- |
| 10 | 5VDC | 1 | VCC |
| 5 | TXD | 2 | SIN |
| 9 | GND | 3 | GND |
| 6 | CTS | 4 | SBUSY |
| NC | NC | 5 | NC |
| NC | NC | 6 | /RESET |
Example VFD Text
Generated by the following script, depending on psutil, dateutil, and ntpsec
#!/usr/bin/env python
# ~*~ coding: utf-8 ~*~

import socket
from datetime import datetime
import dateutil.tz
import psutil
import os
import ntp.packet
import ntp.util
import ntp.ntpc
import ntp.version
import ntp.control
import ntp.magic

if __name__ == '__main__':
    # Hostname
    output = '%24s'%(socket.getfqdn())

    # ISO8601 in local time
    output +='|%24s'%(datetime.now(dateutil.tz.tzlocal()).strftime('%Y-%m-%d %H:%M:%S%z'))

    # NTP refclock statistics
    session = ntp.packet.ControlSession()
    session.debug=0
    session.logfp=None
    session.openhost('localhost')
    peers = session.readstat()
    gps = []
    pps = []
    for peer in peers:
        stats = session.readvar(peer.associd,raw=True)
        if stats['refid'][0] == 'PPS':
            pps.append(stats['delay'][1][:5])
            pps.append(stats['offset'][1][:5])
            pps.append(stats['jitter'][1][:5])
            pps = tuple(pps)
        if stats['refid'][0] == 'GPS':
            gps.append(stats['delay'][1][:5])
            gps.append(stats['offset'][1][:5])
            gps.append(stats['jitter'][1][:5])
            gps = tuple(gps)

    output +='|GPS:d% 4s o% 4s j% 4s'%gps
    output +='|PPS:d% 4s o% 4s j% 4s'%pps

    # CPU, RAM, and load average
    cpu = psutil.cpu_percent()
    ram = psutil.virtual_memory().percent
    load = os.getloadavg()[0]
    output +='|CPU%3d%% RAM%3d%% Load%3.2f'%(cpu,ram,load)

    # System temperatures
    temps = psutil.sensors_temperatures()
    sys_t = temps['acpitz'][0].current
    c0_t = temps['coretemp'][0].current
    c1_t = temps['coretemp'][1].current
    output +='|C0+%3.1fC C1+%3.1fC SY+%2dC'%(c0_t,c1_t,sys_t)
    print output.replace('|','\n')

| h | a | r | r | i | s | o | n | . | i | 3 | d | e | t | r | o | i | t | . | l | o | c | a | l |
| --- | --- | --- | --- | --- | --- | --- | --- | --- | --- | --- | --- | --- | --- | --- | --- | --- | --- | --- | --- | --- | --- | --- | --- |
| 2 | 0 | 1 | 7 | - | 0 | 7 | - | 0 | 4 | | 0 | 0 | : | 5 | 2 | : | 2 | 8 | - | 4 | : | 0 | 0 |
| G | P | S | : | r | 3 | 7 | 7 | | o | 1 | 6 | . | 9 | 7 | | | j | 1 | . | 2 | 3 | 4 | 5 |
| P | P | S | : | r | 3 | 7 | 7 | | o | - | 4 | 2 | . | 1 | 2 | | j | 1 | . | 2 | 3 | 4 | 5 |
| C | P | U | | | 7 | % | | R | A | M | | 3 | 7 | % | | L | o | a | d | 0 | . | 2 | 3 |
| C | 0 | + | 5 | 3 | . | 0 | C | | C | 1 | + | 5 | 6 | . | 0 | C | | S | Y | + | 4 | 4 | C |