Category:Glass Zone
Equipment in Kiln Zone
There are ? major pieces of equipment in the Kiln Zone
Glass Kiln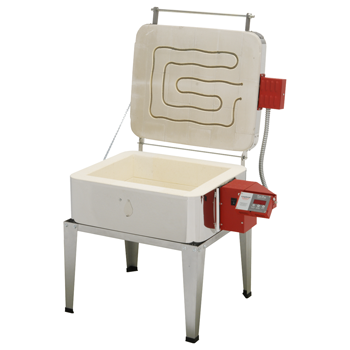 The manufacturer's manual on how to operate the glass kiln is here:
https://www.google.com/url?sa=t&rct=j&q=&esrc=s&source=web&cd=1&ved=0ahUKEwianKmi7vrYAhVizVQKHYUCDZAQFggpMAA&url=https%3A%2F%2Fevenheat-kiln.com%2Fpdfs%2Fmanuals%2Fglass-kilns%2Fcontrollers%2Ftap-touchscreen-by-sds-industries.user-manual.pdf&usg=AOvVaw3448tkk8NqTIKFKWa5bzY-
How to Get Trained/Authorized
This equipment requires authorization/training to use.
To get training look and post on the SLACK Channel #kiln-zone
Lists of Authorized users for the Glass Kiln is HERE
Glass Kiln individual tool page is HERE
Power Glass Saw
[add link]
Power Glass Grinder
[add link]
Kiln Zone Gallery
Kiln Zone Rules
I3 KilnZone training is required to operate KilnZone equipment. A list of Trained Users is above.
When not firing, all private materials and components need to be removed to member's storage. The metal rack is for PUBLIC materials only.
Use Boron Nitride for public molds. Use Kiln paper for Kiln floor.
Clean or apply Boron Nitride OUTSIDE. No Exceptions. ALWAYS use a mask. SEE SAFETY
When using glass powder and other materials of 100 Micron or less, use a mask. And don't work near other people. (Farther than 20' and near ventilation if possible). SEE SAFETY.
Do Not open a working Kiln unless you are the current user or there is an emergency.
If you are using a Kiln and need to leave the building, Make sure Your name and cell # is on the KILN IN USE Whiteboard and the Kiln In Use Side is outward.
Do not put cardboard or paper in the cage. Plastic is OK if more than 18" from the Kiln.
ABSOLUTELY NO FLAMMABLES IN THE CAGE.
Please never remove someone else's work from a kiln without their explicit permission.
IN CASE OF EMERGENCY
If needed call 911.
If possible and effective, turn off Programmable Controller with green switch.
Else, if possible turn OFF Kiln 1 by turning all 3 knobs on Kiln 1 to ZERO. You should hear a click and see the red light go out.
To contain fire, if necessary, use the fire extinguisher located at KilnZone.
Call current user at the cell number located on the clip board on the gate of the KilnZone.
Troubleshooting the Kilns
If any of the kilns are not functioning properly try the following...
Is it plugged in properly. If connected to the extension cord, is that plugged in?
Has a fuse blown? (how to check Here). Replacement fuses can be found (location). The type required is 30 A cartridge type with a delay.
Safety
There are 5 areas where we are developing guidelines for respiratory safety. Two main issues, particle size for normal respiratory irritation, and silicosis with silica particulates. Close exposure to small particles, less than 10 microns, and continued exposure to particles less than 50 microns can cause respiratory irratation. To give a rule of thumb, 90% of wheat flour particles are 10-40 microns for typical flour.
Continued exposure to silica particles less than 100 microns can cause silicosis. These are a more serious issue the smaller the particle and the longer the exposure.
Cleaning molds of Boron Nitride (BN) after a firing or spraying molds with BN is using an aerosol with BN particles of about 10 micron. At present we do all of this outside and with a mask. In the future we may have a HEPA draft box to do this inside.
Cleaning post-fired Kiln Paper. This is silica particles of 100 microns. We use a mask and use wet paper towels direct to trash. We may get a HEPA shopvac in the future. DO NOT use a regular shop vac.
Working with Frit Powder. This is silica particles of about 100 microns. Currently, we use a mask and try to keep 20 feet from unmasked personnel currently. This may be overkill. I am looking for more data and may revise this to simply using masks in future. We wet-wipe clean all work surfaces with paper towel to trash after and do not return any plastic spoons or cups to kitchen.
Working with Silica Flour for creating molds. Same protocol as Frit powder. Silica flour has a distribution of sizes from 10 micron to 125 micron typically.
Working with Plasters/Cements. Plaster of Paris has somewhat larger particle sizes than cement. Only small amounts of silica. Mask recommended. No boundary issues. Normal powder mixing issues.

All mask should be at least N95, prefferrably N100.
Glass Casting and Fusing and Ceramics Classes
Check Eventbrite
Pages in category "Glass Zone"
This category contains only the following page.