Workbench
Tool Use
If you use it, put it back when you're done with it.
If you don't know how to use a tool, ask!
If you break it, post about it to the list to figure out how to resolve it.
Trash
If you're buying trash bags, get the 33-gallon drawstring type. They fit the 32-gallon cans nicely. There is one 45-gallon can too.
Please don't throw sheet metal, copper, or aluminum away. We recycle these.
Harbor Freight (Hossfeld Style) Bender
This is a great tool for bending flat strips of metal, or bending heavy rod.
How-to manual can be downloaded from Harbor Freight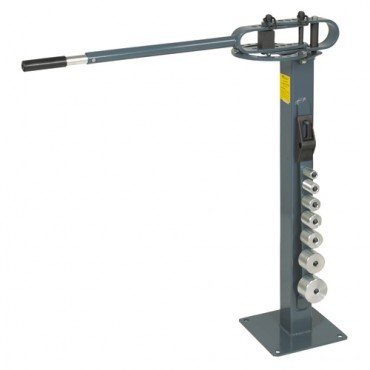 Midwest Fastener Corp Hardware Proposal
Based on last member meeting, I am looking for a list of all the hardware we would use on a regular basis to send to MFC for a quote. Priority (High: Everyday, Medium: Weekly, Low: Monthly, Minimal: Yearly). I listed a few to get you started.
| Name | Type | Approx Used per Quarter | Priority | Notes |
| --- | --- | --- | --- | --- |
| 1/4"-20 (Coarse) | Hex Bolts | 200 | High-Medium | Assorted Lengths from 3/4" to 4" |
| 1/4"-20 | Standard Washers | 200 | High-Medium | Lock & Regular |
| 1/4"-20 (Coarse) | Standard Hex Nuts | 200 | High-Medium | Lock & Regular |
Work at the Vise
Sometimes the quickest (and safest) way to do something is using simple hand tools at the bench vise. Need to cut a piece of metal? Try an hacksaw!
14 Teeth per Inch (TPI): Large Sections of Mild Material
18 TPI: Large Sections of Tough Material
24 TPI: Angle Iron, Heavy Pipe, Brass or Copper
32 TPI: Thin Tubing

Do you need to shape or debur a piece of metal? Try an hand file.
Ensure that the file has a securely attached handle for safety.
Use a file brush card to remove stuck material from face of file. Do this frequently when doing heavy filing.
Use sidewalk chalk to load up the grooves in the file before use. The chalk prevents material getting stuck or 'pinned' to the file, particularly aluminum. Chalk also acts as a dry lubricant for whatever you are cutting.