HOWTO Add Yourself to the i3 Work Schedule
| | |
| --- | --- |
| | This page contains historical information. It is provided for reference but does not reflect current information or policy. |
General Best Practices
How far in advance to schedule your time: This is a judgment call by the members. However if you plan your work at least 24 hours in advance, it does give other members time to see your work block on the calendar and plan around it.
How long should you schedule your work for: Again, it's your call, but the longer you're in the space, the higher the risk is. Do not schedule yourself for a whole day because you aren't sure when you'll make it in. Only schedule yourself for the time you actually expect to spend doing your work and cleaning up.
What if I'm at the space and I accidentally stay longer than I was scheduled for: Try not to do that, but if you do, just edit the event so it's accurate. And then next time plan better.
With Google Calendar
If you use Google Calendar on a computer or mobile device, you can simply click this link to launch it with a pre-filled out entry. Just fill in your name and zones used in the title, and set the correct date and time. If this doesn't work for some reason, see the next section.
Adding Yourself via Google Forms
This method is best for an event 48+ hours in the future. The form does not automatically create a calendar event, a person has to press a button to turn the form entry into a calendar event.
If you can't get the calendar to work with the regular method, you can add yourself using by filling out this form.
You will get an email confirmation of your form submission. Please save it. You can use the information in that email to update the information to edit your calendar entry as required by the Covid Rules.
However, even with the email confirmation, you will not be able to delete a calendar entry with the form. If you find that you need to delete an entry, please edit it so that the event lasts for exactly one minute. The humans behind the scenes will know that you meant to delete the event, and we should be able to do that for you.
Please be aware that the form does not automatically create a calendar event, and still needs a person to press a button to actually create the calendar entry. For this reason, it's not a good choice for events that will be happening soon. It's best for an event 48+ hours out so that the person has time to approve it.
Also, the form currently doesn't allow for events that cross overnight into another day. You will have to create two events, one for each day, if you want to be at the space beyond midnight.
Manually Adding Yourself via Google Calendar
This does not work in the Google Calendar iPhone app; use the Google Form above. This should work in Google Calendar on PC/Mac/Android.
This assumes you are using a Google account with Gmail and Google Calendar. These instructions should translate to most other contact and calendar systems. If you need help with any of these steps, you can post in #covid-19-policy on Slack or email mkfink@i3detroit.org.
One Time Setup
Navigate to https://contacts.google.com (or use the Contacts app on your phone).
Create a new contact named "i3 Work Schedule" with email address i3detroit.org_188da54r5a9rejlbnsedft642ok0m@resource.calendar.google.com by clicking "Create contact" in the upper left.
Creating an Event in Google Calendar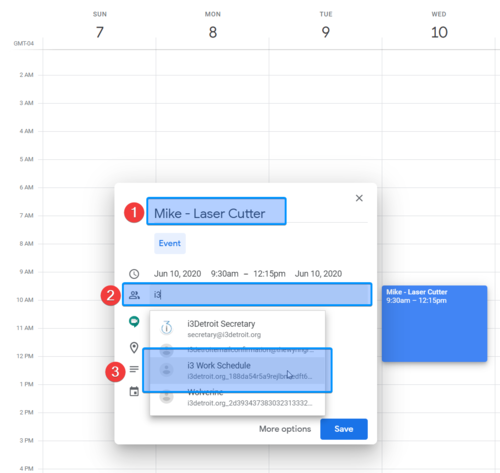 Navigate to https://calendar.google.com (or use the Calendar app on your phone).
Click to create a new event on your personal calendar.
Enter your name and the zone(s) you plan to use in the event title (1).
Set the date/time of your event.
Click on 'Add guests' and start typing i3 Work Schedule (2).
It should auto-complete after a few letters, so select 'i3 Work Schedule' to add it to the event (3).
Click Save. Check COVID-19_Best_Practices#Calendar to see that your event appears. It may take a minute or three to appear and you may have to refresh the page.

If you create the event, add the covid calendar as a guest, and it doesn't show up on *your* calendar (not the covid calendar), google is maybe having issues.
Create the event on your calendar, save it, then edit it and add the covid calendar as a guest.
When you look at the event again it won't show the covid calendar as a guest, but if you give it a few minutes it should show up as a guest and also show up on the covid calendar.
This has affected (1) person so far, if this happens to you please increment the number.
Editing or Deleting Your Event
You can click on your event on your own calendar to make changes (date, time, etc) or to delete it if your plans have changed.
Any changes you make to the event on your own calendar should be almost immediately applied to the schedule.
Viewing the Schedule in Your Calendar App
If you don't want to check the embedded calendar on the wiki you can add it to your calendar app. Bear in mind this will show everyone's events, so it may grow to be very cluttered. You will also see your own entries twice, once on your personal calendar and once on the schedule. This is just a technical quirk that we're stuck with--if you delete your calendar's copy of the event, the one on the schedule will disappear too.
To add the work schedule calendar (in Google Calendar on a computer):
In the menu on the left, next to 'Other Calendars' click the + sign, and then click 'Subscribe to calendar'.
You should get a prompt to enter an email address. If you completed the One Time Setup above, just start typing 'i3 Work Schedule' and it should autocomplete. Otherwise, enter i3detroit.org_188da54r5a9rejlbnsedft642ok0m@resource.calendar.google.com
The schedule should be added now. In Google Calendar, you should get a settings screen for the schedule. You can change the display name here. Also, you almost certainly want to make sure all event notifications are turned off.
Embedded View