Sceptre 55in 4K UHD TV
Intro
This is a 55 inch 4k TV mounted on the western wall of the classroom, normally used to display information to students.
Input/output can be from the Classroom's Multimedia PC, the Classroom's Chromecast, a User's connected laptop, or other provided HDMI input.
This television was generously donated to i3Detroit by @jsodell.
---
If you would like to help with mitigating the costs and for the acquisition of peripherals associated with this equipment, please consider donating funds via the Classroom Zone's PayPal link.
Rules
Recommend to keep HDMI #1 available for last resort, since its the only MHL supported port for this screen.
Chromecast should normally be connected to HDMI #2.
Media Center PC / Raspberry Pi should normally be connected to HDMI #3.
HDMI #4 is best used for presenters to connect their laptops for screen sharing.
Turn down volume to a low level and please put remote away when finished.
Instructions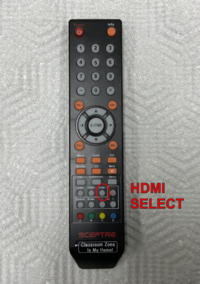 TBA (including the remote's storage location.)
Powering On
Click the red power button at the top of the remote. It takes about 12 seconds to wake, you should see a blue led light at the middle bottom of the bevel after turning on.
Maintenance Info
This television has not been set up for receiving local over the air digital broadcasts.
FAQ
Is this a Smart TV?
No. (But some similar functions can be had by the connected Chromecast.)
How what input/output ports does it have?
4 HDMI & MHL (via HDMI #1) - Also see pic to the right. -->
ToDo
*Upload, update main page picture with the actual unit, preferably something displaying i3D logo on the screen. (desktop of Classroom PC or Chromecast?)
Update with where the remote is usually to be stored. (Acquire Velcro?)
*Add a picture of the remote.
Perhaps make a wiki page for the ChromeCast?