Husqvarna Viking Sewing Machine Emerald 116
Intro
The EMERALD™ 116 is a machine ideal for all types of sewing. The EMERALD™ 116 machine has many practical features you will love including the built-in needle threader, a handy Sewing Guide Reference Chart, a hard cover for storage and an effortless one-step buttonhole.
Features a useful Sewing Guide Reference Chart. The chart recommends the right presser foot, stitch length and width, thread tension and presser foot pressure for different fabrics and techniques.
Features 60 Stitch Functions. It offers utility, decorative and stretch stitches as well as a one-step buttonhole. The stitch length and width can be adjusted.
Accessories included Presser feet: Utility Foot A (we don't have this one), Utility Foot B, Buttonhole Foot C, Adjustable Blind Hem Foot D, Zipper Foot E, Non-stick Glide Foot H, Edging Foot J, Automatic Buttonhole Foot R
Rules
Do not service the machine yourself. Please contact Jan or Kevin, Craft Room Co-coordinators, if you have an issue that requires an examination of the machine (ie removing the plastic casing). We will get it serviced if it needs it but home sewing machines should not be user serviced at i3.
Do not sew over pins. It is unsafe and can cause timing issues with the machine, as well as premature wearing/death of needles. Save money! Don't break needles! In addition, it has been learned that sewing over pins can prematurely wear out the ankle that clips the feet on, specifically the tiny clip part. Once this piece loosens its grip on the feet, the feet can shift in the way of the needle and cause breakage that way, and damage to the feet and machine. Replacement cost for the ankle is $25, and we want to minimize how often this part is replaced. So we have money to buy other stuff!
Instructions
http://www.husqvarnaviking.com/SiteMedia/Products/Machines/Stitches/Emerald116_118_122_Stitch-Chart_EN-pdf.pdf?ext=.pdf
Maintenance Info
Vacuum out the bobbin area (remove bobbin and bobbin case) after each use, especially if your project is particularly fuzzy. This will help keep our service costs down. If the ankle (piece that the presser feet snaps into) grip on the presser feet becomes loose, please contact Jan or Kevin, who will replace the ankle. Loose ankles cause loose feet, which cause the needle to randomly strike the feet and break, which after time creates alignment issues with the machine.
FAQ
Can parts from the Emerald 116 and Designer SE models be used interchangeably? No. The machines are not compatible. They have their own parts.
Do we keep thread available for this machine? Sort of.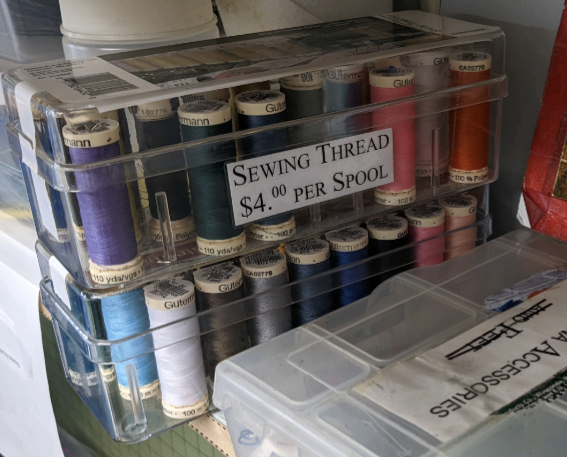 This box has thread and is available for use with appropriate contribution, but don't count on there being exactly what you need. If it's critical, bring your own.
ToDo
Missing parts were purchased so machine could be used and have been tested. No other tasks due at this time.